The vibration data on a turbine-driven feed water pump and turbine (figure below) at a nuclear power plant showed a step increase at running speed on the inboard turbine points. Additional data showed the levels were increasing and failure of this component would result in a forced derate of 35%.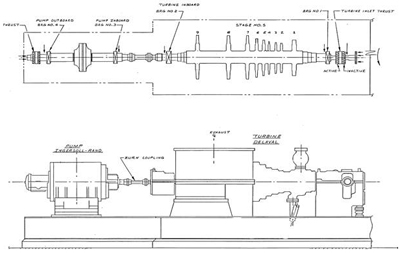 During the troubleshooting process, VAI collected and analyzed cross-channel phase data and confirmed the increase was due to an issue that was affecting the alignment. We also provided informal ODS training to the plant's vibration engineer and installed a multi-channel vibration monitoring system so the plant could monitor and trend levels.
Our accurate data analysis services and recommendations allowed the plant to continue operating until the next scheduled derate. At that time, they confirmed the problem was due to the loss of coupling lubricant, which resulted in a bound coupling that subsequently affected the alignment.